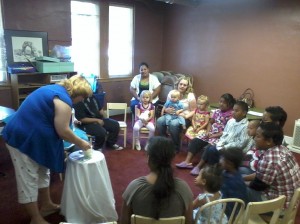 Children's Church and Nursery available for children up to 12 years.
 Please go to Contact Us for details.
There are many advantages to involving your children in the life of a church!  Children who come regularly to Provo Community Congregational United Church of Christ will:
become aware of God's all-encompassing love and extravagant welcome to all
cherish this loving Christian community and build friendships with others in the church
learn how to live out their values in this world
gain religious literacy throughout their education
have fun and make lasting memories
Still Speaking Daily Devotionals
Always relevant. Always concise. Inspired reading for your prayerful reflection each morning from the United Church of Christ, where God is Still Speaking!
ucc.org/feed-your-spirit/daily-devotional
facebook.com/stillspeakingdevotional
twitter.com/UCCDailyDevo
Weekly Adult Bible Study is held Sunday at 9.30am.