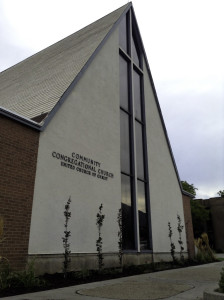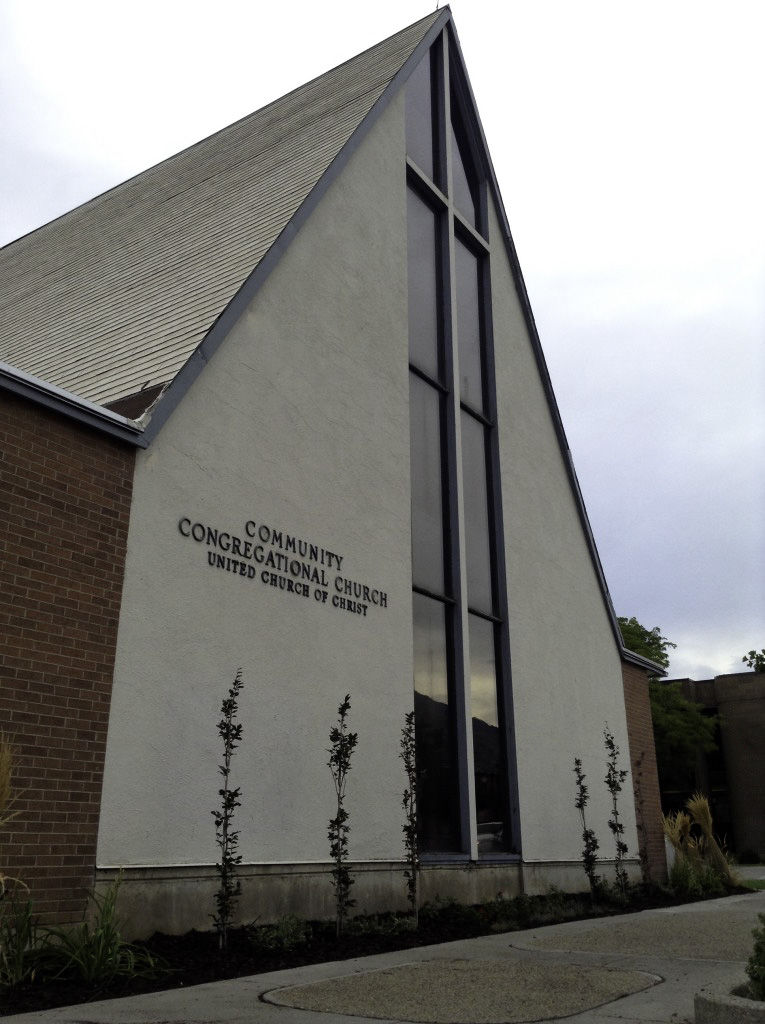 Provo Community Congregational
United Church of Christ
located at 175 North University Avenue, Provo, Utah 84601
The mission of the Provo Community Congregational United Church of Christ is to be a sanctuary for spiritual growth in Jesus Christ. Through worship, service, and fellowship we strive to be an inclusive, evangelical congregation that affirms and accepts diversity.
We believe in God's continuing testament. This is why we are committed to hearing God's ancient story anew and afresh in our lives and in the world today. We try to remain attentive to God's creative movement in the world. Religion and science are not mutually exclusive, and your head and heart are both welcomed into our places of worship. We prepare our members and leaders to be engaged in ministry in the present and future church, and we embrace all kinds of communities and new modes of thinking. Why? Because God is still speaking,
No matter who you are, or where you are on life's journey, you are welcome here.
Denomination
As a United Church of Christ congregation we embrace a theological heritage that affirms the Bible as the authoritative witness to the Word of God, the creeds of the ecumenical councils (Nicene Creed and The Apostles' Creed), the confessions of the Reformation and newer statements of faith. The Church has roots in the "covenantal" tradition—meaning there is no centralized authority or hierarchy that can impose any doctrine or form of worship on its members. Christ alone is Head of the church. We seek a balance between freedom of conscience and accountability to the apostolic faith. The Church therefore receives the historic creeds and confessions of our ancestors as testimonies, but not tests of the faith.
Who We Are
We believe in extravagant welcome. This is why we insist that God's communion table is open, not closed, and God's gift and claim in baptism are irrevocable. We advocate justice for all. Our congregations extend hospitality as a sign of God's inclusive love. We teach that evangelism — offering bread to those in search of it — is God's mission. Our perspective is global, not provincial. We work with — not against — people of other faiths. Why? Because God is still speaking,
Never place a period where God has placed a comma.
We believe the church's mission is to change lives — individually, systemically and globally. We work to make transformation possible, but trust in God's grace. This is why we insist that churches must be places of vitality in worship, learning and advocacy. We are committed to working for justice, and we believe that lives are changed through global experiences and friendships. Why? Because God is still speaking,   Take a look: ucc.org/about-us_who-we-are
What We Believe
We believe in the triune God: Creator, resurrected Christ, the sole Head of the church, and the Holy Spirit, who guides and brings about the creative and redemptive work of God in the world.
We believe that each person is unique and valuable. It is the will of God that every person belong to a family of faith where they have a strong sense of being valued and loved.
We believe that each person is on a spiritual journey and that each of us is at a different stage of that journey.
We believe that the persistent search for God produces an authentic relationship with God, engendering love, strengthening faith, dissolving guilt, and giving life purpose and direction.
We believe that all of the baptized 'belong body and soul to our Lord and Savior Jesus Christ.' No matter who – no matter what – no matter where we are on life's journey – notwithstanding race, gender identity or expression, sexual orientation, class or creed – we all belong to God and to one worldwide community of faith. All persons baptized – past, present and future – are connected to each other and to God through the sacrament of baptism. We baptize during worship when the community is present because baptism includes the community's promise of 'love, support and care' for the baptized – and we promise that we won't take it back – no matter where your journey leads you.
We believe that all people of faith are invited to join Christ at Christ's table for the sacrament of Communion. Just as many grains of wheat are gathered to make one loaf of bread and many grapes are gathered to make one cup of wine, we, the many people of God, are made one in the body of Christ, the church. The breaking of bread and the pouring of wine reminds us of the costliness of Christ's sacrifice and the discipleship to which we are all called. In the breaking of bread, we remember and celebrate Christ's presence among us along with a 'cloud of witnesses' – our ancestors, family and friends who have gone before us. It is a great mystery; we claim it by faith.
We believe the United Church of Christ is called to be a united and uniting church. "That they may all be one." (John 17:21) "In essentials–unity, in non-essentials–diversity, in all things–charity," These UCC mottos survive because they touch core values deep within us. The Church has no rigid formulation of doctrine or attachment to creeds or structures. Its overarching creed is love. Our pastors and teachers are known for their commitment to excellence in theological preparation, interpretation of the scripture and justice advocacy. Even so, love and unity in the midst of our diversity are our greatest assets.
We believe that God calls us to be servants in the service of others and to be good stewards of the earth's resources. 'To believe is to care; to care is to do.'
We believe that the United Church of Christ is called to be a prophetic church. As in the tradition of the prophets and apostles, God calls the church to speak truth to power, liberate the oppressed, care for the poor, and comfort the afflicted.
We believe in the power of peace, and work for nonviolent solutions to local, national, and international problems.
We are a people of possibility. In the United Church of Christ, members, congregations, and structures have the breathing room to explore and to hear … for after all, God is still speaking, …
(http://www.ucc.org/about-us_what-we-believe)
Community
Community is our middle name. The Community Church program as carried out in Utah means that the members of the mainline denominations all work in one designated church in the city. Thus there is one strong church witnessing for Christ rather than several small and ineffective ones, thus we are serving American Baptists, Disciples of Christ, United Church of Christ, Lutherans, Methodists, and Presbyterians in Provo area. Our neighboring community churches are Orem Community United Church of Christ, Springville Community Presbyterian Church, and American Fork Community Presbyterian Church.
See also: Open and Affirming
History
The Provo Congregational Church was founded February 5, 1891. Eleven persons adopted a covenant and creed and elected officers. The first public services were held the following Sunday.
In December 1892 a corner lot at Third North and University Avenue was purchased for $1000.00. A frame building was erected and the first church was dedicated April 29, 1894. This building served the Congregationalists until 1923 when the Congregationalists, Methodists, and Baptists united to become the Provo Community Congregational Church.
In 1923 property was purchased at 200 North and University Avenue to the erecting of a new, larger building that would house the Church and the community's first kindergarten class.  Funds were made available from the estate of Ms. Meno Trope.  In 1928 an addition was designed that would house a larger chapel and a 75′ bell tower.  These unfortunately were never built, most likely due to the economic status of the area at the time.
By the mid-1950's the steel trade was booming in the area which brought people from around the country to the area.  The Church membership swelled and Meno Trope Hall became too small to house the congregation bursting at the seams.  Funds were raised and a new chapel and fellowship hall were designed and added in 1956, dedicated in early 1957.
The Church has been, and continues be home to many organizations over the years including boy and girl scout troops, 12-step, the Food and Care Coalition, community health screens and immunizations, choral groups, and many more.
Historic bits and bytes:
The Rev. Charles McCoard writes about "A Community Church in a Utah Town" (1922)
The Rev. Philip King writes about "Thirty Years in Mormondom" (1914)
A Teacher writes about "Procter Academy, Provo, Utah" (1909)
The Church Review reviews "The Congregational Church of Provo" (1895)